To provide your personal details :
Click on "General info" Tab at the top
Provide all information requested (Note: you can fill in "French mobile number" once in France).
Save changes
To fill out the housing questionnaire:
After filling out the "General info" (see above), choose the "Housing" tab at the top
Follow directions and accept terms and conditions of the VWPP Housing Charter.
Fill in your responses
Click on submit.
October 22: Deadline for all students to submit responses to General information and Housing questionnaire online (see how to above).
October 25-28 Wesleyan – TBA (8 :30am – 11am EST): Housing skype appointments with Lisa Fleury for Wesleyan students. Please check with Hannah Parten to make sure you sign up for an appropriate time-slot.
October 30 Vassar – TBA (9 am – 11:30 am EST): Housing skype appointments with Lisa Fleury for Students of Vassar students. Please check with Greta Decker to make sure you sign up for an appropriate time-slot.
November 11: Housing questionnaire is closed for changes (Any changes sent after this date to Lisa Fleury may not be guaranteed and are subject to availability).
Indicate your French university preference:
October 24: You will receive a message from the VWPP director with request for University choices. Students are requested to consult French University web sites to familiarize themselves with UFR's, departments, « parcours », etc. Guidelines are outlined on VWPP's French Web site.
November 6: Student Deadline to complete university request.
To indicate your university preferences:
Choose the "Univ. Reg." tab at the top
Click on Edit
Provide your choices and be sure to justify your 1st and 2nd choice in the textbox.
Click on submit.
November 20: University assignment communicated to students.
You will be asked to upload a passport sized ID photo to the VWPP database in the documents tab for your university registration to be completed.
At this point, you are advised to read through more carefully the brochures of UFR's in which they are interested in order to pick out possible courses you want to take (remember only S4 and S6 are available for spring semester). You will meet with one of your French professors to make a first selection of your university courses. Make sure to consult with the appropriate department in your home institution to make sure that the courses you are interested in will count toward you major (if you so wish). Make a list of potential courses of interest offered at your assigned university.
Note to students: all final decisions regarding course choice will be made in Paris.
Indicate your VWPP seminar preferences:
December 4: VWPP seminar descriptions for Spring 2020 will be available online on our French Website.
December 11: Deadline for choosing VWPP seminar.                                                           You will be able to preregister for VWPP seminars only AFTER the Paris office receives all information for French University pre-registration.
All students are required to give first and second choices for both a Writing intensive course and a seminar (so 4 courses choices in all). To indicate your preferences:
Choose the "Course Reg." tab at the top
Choose two Writing Intensive courses and two seminars from the drop down menus.
Click on submit.
Things to do before December 1st:
If you are not on the group flight, send your travel itinerary to info@vwpp.org
Unlock your phone
We encourage you to subscribe to the French cellphone plan Free (recap of the offer here) following the instructions below (this is the best offer you can find in France now). You must have a French number. Subscribe here.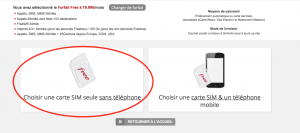 1/ Select the first option to get a sim card without a phone.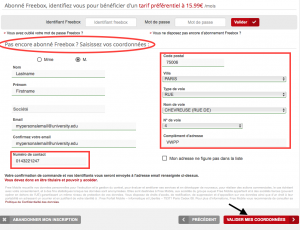 2/ Enter your personal contact details and make sure you enter the VWPP's address and phone number as indicated here. Then confirm your details.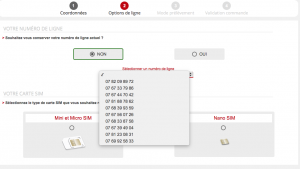 3/ On this webpage, you will be asked to keep your phone number or not. Select "No" and choose a French phone number in the list. You will also be asked to select the type of sim card you want (for example, Nano SIM for an iPhone).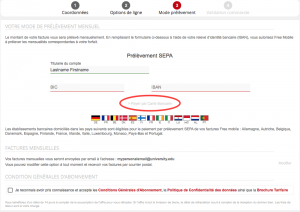 4/ This page is the payment page. Click on the "Pay by Card" button as shown.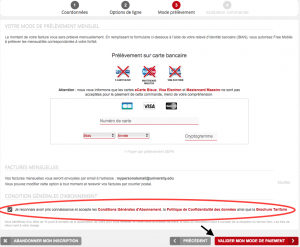 5/ Enter your credit/debit card information. Don't forget to check the box at the bottom of the page and to confirm your payment.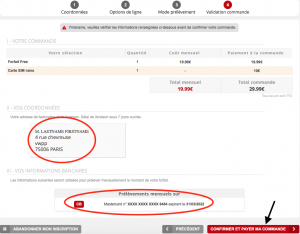 6/ Here you will find a recap of your personal contact details and card info. Make sure you check them before you confirm.
7/ You will then receive an email confirmation and your sim card will be mailed to the VWPP office in Paris before your arrival.
Friday December 6: Deadline for completion of VWPP course pre-registration.
Please note VWPP final Course assignments will be communicated to students upon arrival in Paris in January 2020.
January 3 2020: Last date to upload your visa for France on the VWPP databse (login to the VWPP Administrative portal)