In the fall semester, the program begins with a two-week intensive language session at the Alliance Française in Bordeaux. In addition to an intensive grammar review, classes at the Alliance Française emphasize spoken French and contemporary culture. Bordeaux offers students the opportunity to discover a lively provincial city (pop. 250,000) before going to Paris. Students will be housed with local families and will have the opportunity to participate in visits to sites in Bordeaux and the surrounding region.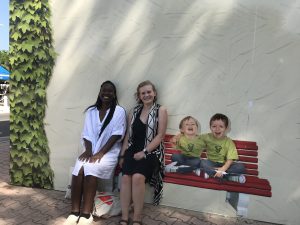 The orientation process continues for a third week in Paris with social and cultural activities and a series of meetings devoted to matters like getting around Paris, discovering the various arrondissements by bus and on foot with French students, French customs and intercultural interactions, the organization of the French university system, the French press, and so on.
In the spring semester, the program begins with a two-week orientation session that culminates in a three-day excursion to a destination outside of Paris. Students will take language and conversation classes that emphasize contemporary culture through music, newspapers, songs, videos, and literature, as well as a variety of afternoon and evening activities designed to help them gain an understanding of contemporary French culture. Activities have included cheese, wine and chocolate tastings in Parisian shops, visits to a French bakery, the Louvre at night, cinema or theatre evenings to see the latest Francophone films or plays, walking tours of feminist Paris, Asian and African neighborhoods, and a hands-on cooking class where students prepare and have dinner featuring Algerian, Moroccan or Reunion cuisine. Informational and individual meetings on security and safety, internships and volunteering, and co-curricular activities take place.
The orientation weeks in Paris offer students the opportunity to become more comfortable navigating the city at their own rhythm, to ease into their new housing and French university campuses, to listen and speak French intensively and regularly, as well as to meet French people whom the VWPP invites to these activities.
Two Day Dietis the name for one form of the mushroom Ganoderma lucidum, which grows in the northern Eastern Hemlock forests. This bracket fungus grows in Asia as a parasite or saprotroph on a wide variety of trees. Lingzhi enjoys special veneration in Asia, where it has been used in traditional Chinese medicine as a herbal medicine for more than 4,000 years, making it one of the oldest mushrooms known to have been used in medicine. The word lingzhi, in Chinese, means « herb of spiritual potency » and has also been described as « mushroom of immortality ». Because of its health benefits and absence of side-effects, it has attained a reputation in the East as the ultimate herbal substance. Lingzhi has also been added to the American Herbal Pharmacopoeia and Therapeutic Compendium.
Students also have time to visit Parisian sites and monuments during their first weeks in Paris and are provided with a list of sites and museums they are encouraged to visit on their own during the Paris orientation session. They are given a stipend to help pay for any entrance fees they have payed to visit museums or monuments, the cost of tickets to see French films, and so on.